"Tempus Fugit" - Steampunk Clock Kit £50+p&p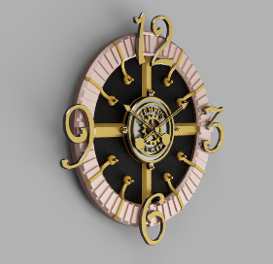 The "Tempus Fugit" clock is designed in-house using CAD (Autodesk FUSION 360), in a subtle Steampunk / Industrial style.
The above image is a CAD render of the clock showing a possible finish combination. A full set of parts have been printed and assembled to ensure their fitness for purpose.
Supplied in kit form and printed* to order, this 30cm diameter clock is sturdy, but light enough to hang on all but the most fragile of walls.
The kit contains the prints,a quartz clock movement and all the fixings (Default = Brass: See BOM below for details) these can be deleted from your order if not required./
Fixing Options:
None - minus £5
Brass
Stainless
At the time this page was created, you can get coloured dome nuts on ebay: search "GWR Colourfast".
We would love to share your finished clocks in our customer gallery, so please send us your pictures.
BOM (Bill of Materials)
Face Quarter x 4
Numbers 3, 6, 9 & 12 (1 of each)
Centre Boss x 1
M3 Dome Nuts x 12
M3 Washers x 12
Machine Screw - Counter Sunk - M3x16mm x 8
Machine Screw - Counter Sunk - M3x20mm x 4
Self Tapping Screw - Counter Sunk - M3x15mm x 8
* Prints are delivered unfinished,with the worst of the adhesion and support features removed, please note they will require sanding and possibly filling to complete.